2022
« Multivers » est un projet vidéo questionnant la désirabilité des œuvres d'art en regard des < œuvres bulles > de l'exposition « Culture bulle » de Gladys Bourdon au Syndicat Potentiel à Strasbourg en 2022.
"Multiverse" is a video project questioning the desirability of works of art in relation to the < bubble works > in the exhibition "Bubble Culture" by Gladys Bourdon at the Syndicat Potentiel in Strasbourg in 2022.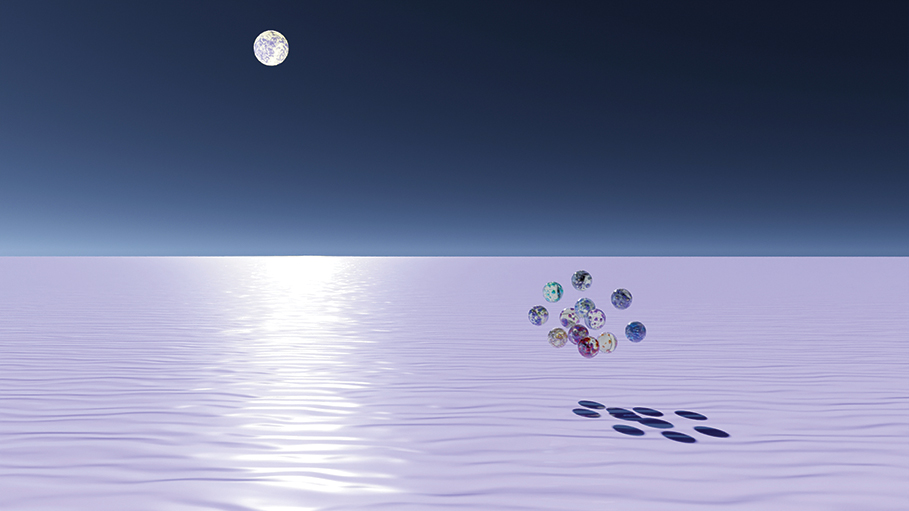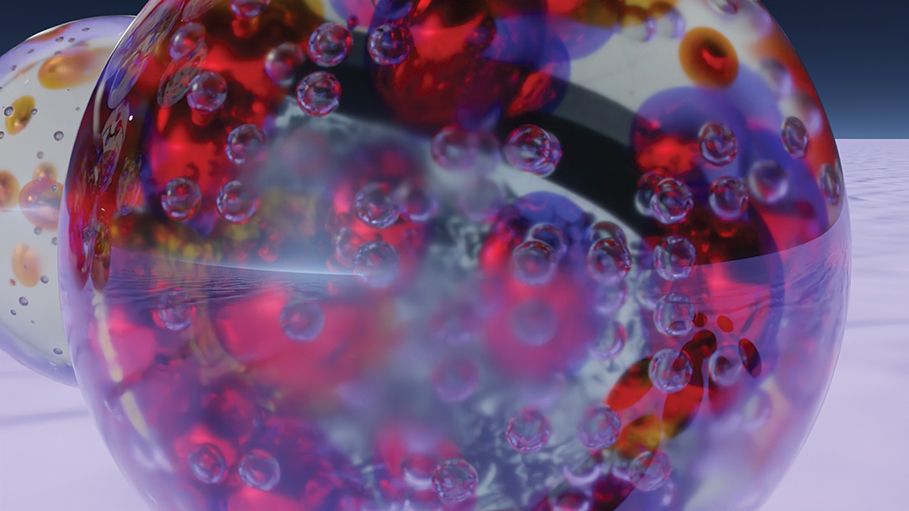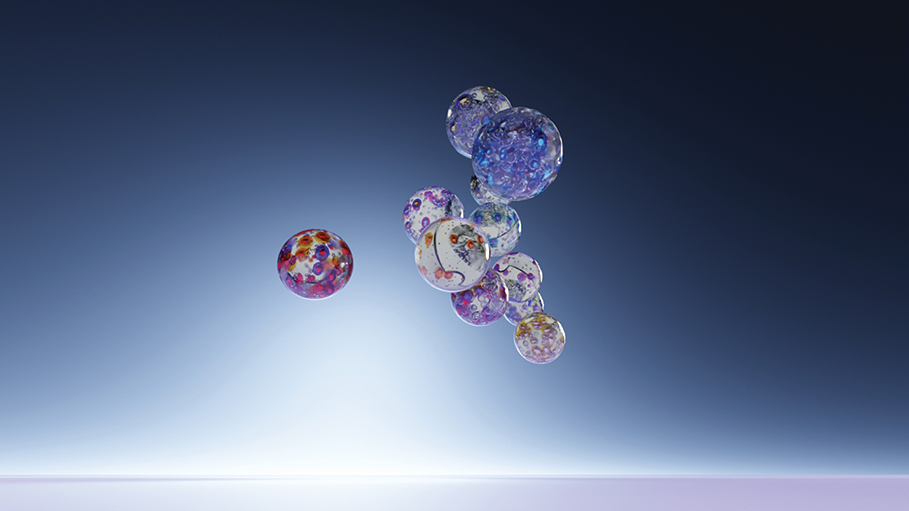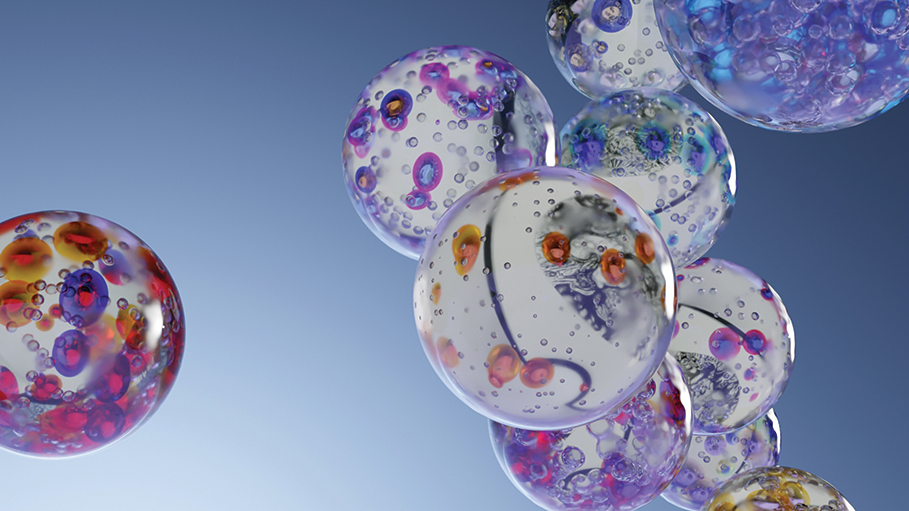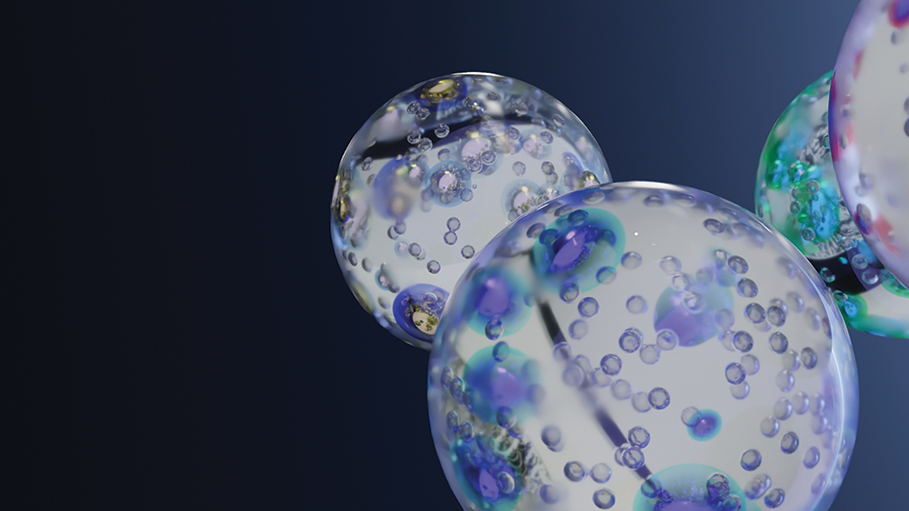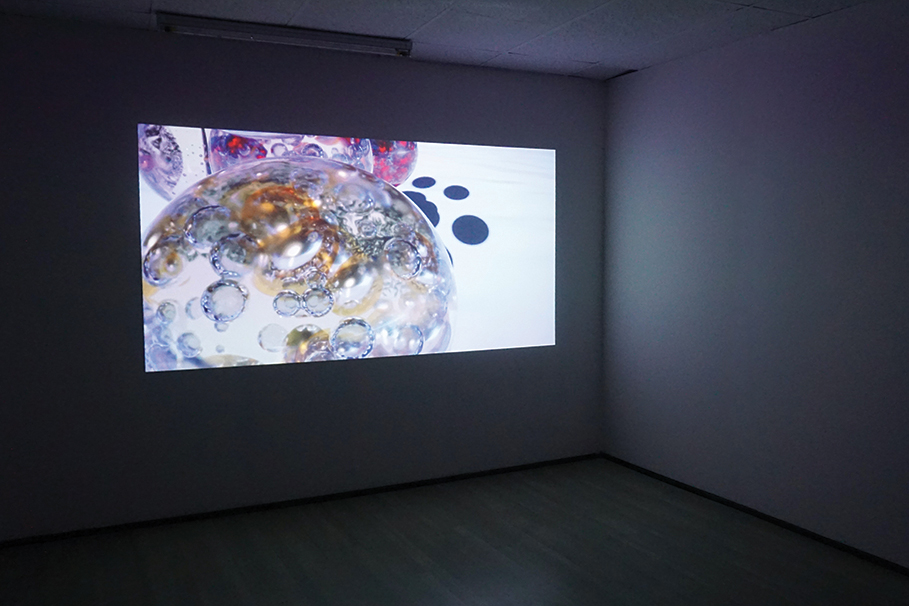 En convoquant des codes propres à la publicité du monde de la parfumerie et en faisant directement référence aux sulfures, Gladys Bourdon met en exergue la fascination qui se déclare lorsque notre désir de voir est trompé par un jeu entre présence et absence.

Dans une société où les artistes peinent à partager leur travail par manque d'opportunités et de moyens, faut-il revoir les principes de monstrations des œuvres d'art et s'interroger sur les moyens entrepris pour attiser la curiosité et réactiver les imaginaires ? Faut-il rendre les œuvres d'art plus désirables ? Par ailleurs, ces « œuvres bulles » virtuelles nous renvoient aux représentations cosmogoniques, et nous interrogent quant à la possibilité de faire valoir le processus de création des œuvres.

Les images des multivers en « bulles de champagne » proposées dans les documentaires de vulgarisation scientifique montrent des mondes évoluant de manière distincte. À une toute autre échelle, les sulfures semblent être des univers à part entière, appréhendables dans le creux de la main. À l'inverse les « œuvres bulles » virtuelles sont vouées à demeurer insaisissables, et leur contenu condamné à n'être jamais totalement exposé.

Multivers fait suite au projet Spectre, réalisé dans le contexte de la crise sanitaire et dans le cadre du projet Donner la parole, ne rien concéder de Réseau TRAM. Les « œuvres bulles » y sont nommées pour la premier fois. Le Syndicat Potentiel a parrainé et accompagné Gladys Bourdon dans le cadre d'une aide à l'émergence soutenue par la région Grand Est.

Musique par Roger Gavalda (A Frozen Heart).
•
By using codes specific to advertising in the world of perfume and by making direct reference to sulphides, Gladys Bourdon highlights the fascination that arises when our desire to see is deceived by a game between presence and absence.

In a society where artists struggle to share their work due to a lack of opportunities and means, should we review the principles of displaying works of art and question the means undertaken to arouse curiosity and reactivate the imagination? Should works of art be made more desirable? Moreover, these virtual "bubble works" refer us to cosmogonic representations, and question the possibility of asserting the process of creating works.

The images of the multiverse in "champagne bubbles" in popular science documentaries show worlds evolving in distinct ways. On a completely different scale, sulphides seem to be universes in their own right, apprehensible in the palm of the hand. By contrast, virtual "bubble works" are destined to remain elusive, and their contents never fully exposed.

Multiverse follows on from Spectre, a project carried out in the context of the health crisis and as part of Réseau TRAM's Donner la parole, ne rien concéder project. The "bubble works" are named for the first time. The Syndicat Potentiel sponsored and accompanied Gladys Bourdon within the framework of an emergence aid supported by the Grand Est region.

Music by Roger Gabalda (A Frozen Heart).